Samyang Embarks on Fishing Net Recycling Project to Accelerate Its Eco-Friendly Initiatives
2022.09.02
- Signed a supply agreement of recycled plastic pellets with a social enterprise "NETSPA"
- Transforming waste fishing nets discarded at sea into materials for automotive interior and exterior
- Generating 80% less carbon emissions compared to new nylon; plan to constantly expand its eco-friendly product portfolio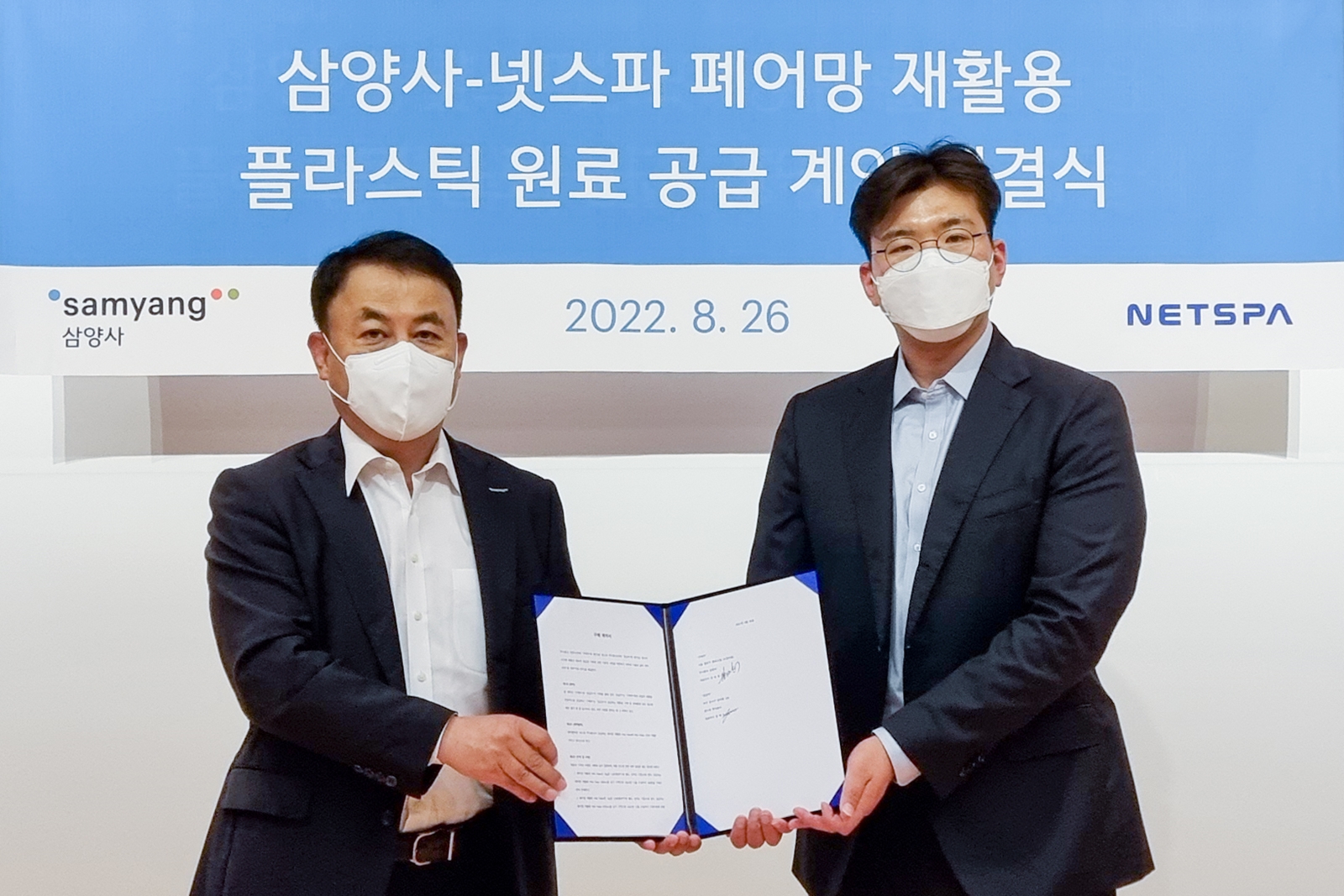 ▲ President Kang Ho-sung of Samyang Corporation (left) and CEO Jung Taek-soo of NETSPA (right) signed an agreement of supplying recycled plastic pellets using waste fishing nets on the 26th at Samyang Group headquarters in Jongno-gu, Seoul.



Samyang Group enters into the waste fishing net recycling business to accelerate its ESG management.



Samyang Corporation (President Kang Ho-sung), a food and chemical affiliate of the Samyang Group, announced on the 29th that the company and NETSPA (CEO Jung Taek-soo), a social venture that recycles waste fishing nets, signed an agreement to supply recycled plastic pellets on the 26th at its headquarters located in Jongno-gu, Seoul. Pellets are small particles typically created by compressing an original material. The two companies signed an MOU on the 4th for technical cooperation and joined hands to develop environment-friendly materials using discarded fishing nets.



Under the supply agreement, NETSPA will provide 1,100 tonnes of plastic pellets recycled with waste fishing nets to Samyang Corporation. Samyang Corporation will use these pellets to manufacture plastic compounds (materials with improved properties by adding additives) for automotive interior and exterior parts. The company has already started to prepare for the supply of plastic compounds to automotive manufacturers both at home and abroad. It plans to further expand its product portfolio to include furniture, appliances, electrical/electronics industries.



Each year, 40,000 tonnes of fishing nets are discarded at sea of Korea, accounting for approximately 10% of the total marine waste. Known as the main culprit for severe marine pollution, waste fishing nets threaten marine life and damage the habitats of coral reefs. However, only a small amount of fishing nets is being collected due to the low economic value of collecting and recycling them. Samyang Corporation intends to collect waste fishing nets and recycle them into materials for automotive interior and exterior materials with the aim of achieving both eco-friendliness and high performance.



A variety of synthetic fibers such as nylon, polypropylene, and polyethylene are used for making fishing nets. Among them, nylon is the most commonly used plastic material for the textile and automobile industries. Producing nylon with recycled fishing nets reduces approximately 3.68 kg of carbon emissions per 1 kg of discarded fishing nets, contributing to about 80% less carbon emissions compared to producing new nylon.



President Kang of Samyang Corporation commented, "This supply agreement is meaningful in that the company expands its eco-friendly project portfolio to include recycling business following the development of biomaterial," and added, "We will continue to develop eco-friendly products and technologies to fulfill ESG management."



Samyang Group is focusing on a group-wide development of eco-friendly materials. For instance, it has developed "isosorbide," a biodegradable material extracted from corn and other plants, for the first time in Korea and applied it as adhesive for motor cores, urethane, etc. as a replacement for existing petroleum-based chemicals. Samyang Packaging invested KRW 43 billion to introduce PET recycling facilities, and Samyang Corporation was selected as the project leader for a Biomass-Derived Biodegradable Polycarbonates (PCs) and Automotive Parts Development supervised by the Ministry of Trade, Industry and Energy in April, 2020. It has worked on the development of biodegradable PCs and wide application for automotive parts.



NETSPA is a marine social venture that recycles marine debris such as waste fishing nets into long fibers for clothes, automotive parts, and electronic components. It has equipped itself with technologies and automated facilities that sort out high-quality nylons from mass volume from waste fishing nets made of a variety of synthetic fibers such as nylon, polypropylene, and polyethylene. NETSPA currently operates a plant with the capacity of recycling approximately 4,000 tonnes of waste fishing nets per year in Busan.