Smart R&D
Center
Samyang R&D Center has grown with
the Korean chemical industry
since its establishment in 1979.
We are conducting research and development with
the goal to be Smart R&D Center which provides
customized integration solutions based on One More
Value technology and product development.

By conducting research on the synthesis and processing
of engineering plastics, Samyang R&D Center developed High-flow PC through synthesis technologies for achieving
lightweight and small-sized materials, Branched PC with enhanced formability in the state of being molten and
Silicon Polycarbonate polymers with excellent low temperature high-impact, flame-retardant and chemical resistance.
With Samyang R&D center's compounding technologies on the base resins above, we developed sophisticated advanced
engineering plastics with the properties of high heat-resistance, safety against ultraviolet rays and more.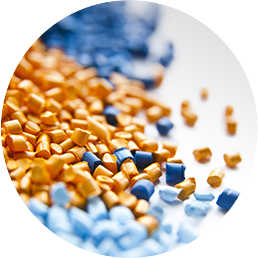 Research Field
Maintain maximum performance in existing businesses by developing differentiated technologies/products through continuous basic and applied research and digital innovation. We aim to build new technologies in the future and integrated solutions for future vehicles and environment-friendly sectors, preparing for the upcoming global and future society.
Specialty Resin & Monomer

PC(Silicon, high-heat resistance, high hardness), TPEE, Eco-friendly Materials, Eco-friendly Materials

Engineering Plastic

Future Automotive Solutions, Low Dielectric Materials, AI Modeling

Composite & 3D Printing

Lightweight Materials(LFT, Composite), Low-temperature Output PC
Color Lab
Samyang corporation has developed coloring
system that can implement various materials
and colors that customers want by utilizing
big data and AI.

If you visit Samyang Color Lab, you can
measure and predict the customized colors
you want through Samyang own coloring
system.
* You can consult with related inquiries through 'Inquiry'.
Inquiry
Emotional & Trendy Colors
At Samyang Color Lab, you can check out various trendy colors including Pantone Color of the Year which you can apply to our emotional materials.
History of Samyang R&D Center
| | |
| --- | --- |
| August, 2020 | Awarded IR52(Industrial Technology Research) Jang, Young-sil Prize(Metalinus) |
| July, 2019 | Developed Compound Color AI Modeling(Samyang Color) |
| May, 2019 | Opened Color Lab & Show-room |
| April, 2019 | Awarded by Minister of Science & ICT(Republic of Korea) Prize (Silicon PC and three other materials) |
| August, 2017 | Founded Automotive Materials Development Team |
| November, 2012 | Developed Silicon Polycarbonate(Si-PC) |
| | |
| --- | --- |
| September, 2009 | Developed & Commercialized Printer Toner Binder Resin |
| December, 2007 | Acquired ISO/TS 16949 Certificate |
| March, 2007 | Developed Automotive CVJB materials in Republic of Korea (Samyang Kasei R&D Center) |
| February, 2007 | Approved as GE Global Material(PC, PC/ABS, TPEE) |
| November, 2006 | Hosted SPE(Society of Polymer Engineering) Korea |
| January, 2006 | Separated Samyang R&D Center(Medical, Kasei, Industrial Materials) |
| May, 2000 | Combined Chemical R&D Center and Bio-pharmaceutical R&D Center as Samyang R&D Center |
| | |
| --- | --- |
| February, 1995 | Hosted International Academic Symposium |
| October, 1994 | Awarded Suture Patented Technology Prize |
| August, 1993 | Relocated to Daedeok Innopolis(formerly known as Daedeok Science Town) |
| September, 1992 | Renamed as Samyang Group R&D Center and founded Bio-pharmaceutical R&D Center |
| April, 1992 | Awarded Order of Industrial Service Merit(Silver Tower) by the President of Republic of Korea |
| | |
| --- | --- |
| January, 1986 | Awarded Order of Industrial Service Merit(Gold Tower) by the President of Republic of Korea |
| April, 1979 | Founded Samyang R&D Center |